Almost a month ago, a very special match was made with our beautiful Marvel. Such a gentle soul, who had been in BAWCS care for some time and was loved by all of our volunteers. It warmed our hearts when we received this lovely update from Marvel's new "mum", and we just had to share…
Thought Tony and I would send through an email letting you know how Marvel is settling in. Marvel is absolutely adorable and we love him to bits. He has settled in really well and seems to think he's boss…lol!

He is very well toilet trained, no mishaps whatsoever and loves his tucker both wet and dry food and has his daily routine down pat….or should I say we have his daily routine down pat…like I said he thinks he's boss 😉
Marvel loves his smooches, snuggles, pats and kisses with both Tony and I and distributes them differently with the two of us.
At night when it's bed time, he snuggles right in with Tony and I on our bed, on our pillows behind our heads, at the foot of the bed or anywhere on there he feels comfortable. We often wake up at night and he's on our pillow next to us looking at us, then he makes sure we're okay and settles back in and starts purring all over again….until we move our tootsies and he's up for a play 😉
He has started to become more adventurous within our home and looking into places he hasn't yet gone. He knows exactly where his food is kept and even when Tony and I are in the backyard he is often at the sliding door watching and staying close.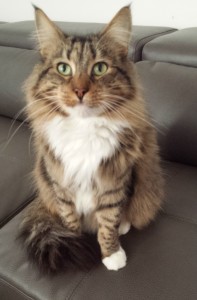 He has found 'his spot' on the couch, on our laps, on the dining room chairs, on our bed, on the floor and has just started approaching his scratching post without as much fear.
Oh and he loves, loves playing with his toy mice and adores shoe laces.
The kids love him to bits and he is not so shy with them as he was when we first brought him home.
Tony and I just laugh at all the fun and cute little things he gets up to, even his cantankerous mood and crankiness at times.
We are so grateful for our furry feline child in ways I can't describe and Marvel means the world to both Tony and I.
One thing I am so thankful for is BAWCS no kill policy because we would not have Marvel if that was the case seeing as he was a BAWCS resident for 2 years. How no-one snapped him up before us is unbelievable however he was waiting for the right family to come along and take him home and love and spoil him rotten, which Tony and I do without hesitation.
Marvel has started snuggling with one of his toy mice attached to a shoelace of a night time. If you look closely at his photo, the toy mouse is under his cute little head.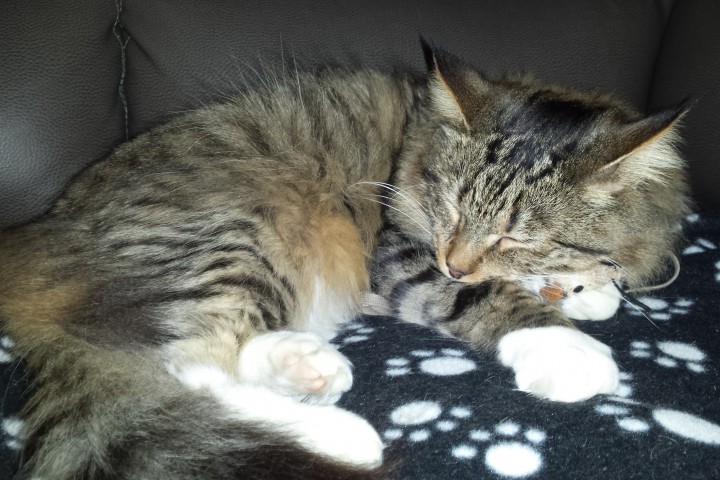 Before I sign off…this kitty loves TV…he sits there watching it with us…he sure is lovable.
Until next time…love Marvel, Tony and Christine x