3
easy ways
to donate
All options allow you to set up a monthly contribution to help us continue our work caring for animals in need.
---
Direct funds transfer to ANZ
Account Name: Bendigo Animal Welfare & Community Services
BSB: 013533
Account No: 478527768
Reference: Your name
---
PAYPAL and Credit Card payments
---
Secure online donation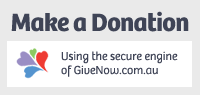 Why donate to BAWCS?
BAWCS relies on donations from compassionate people just like you and volunteers willing to give their time. Without your support, we cannot continue to save and re-home animals in need.

Your support will contribute towards:
Helping us provide food, veterinary care and accommodation for the animals in our care
Support for our many farm animals who call BAWCS home, as part of our Farm Friends program
We understand that some people would prefer to donate specific items we need. You may like to view Our Wish List
Pet food donations
BAWCS gratefully accepts pet food donations to help feed animals in our care. These donations also support disadvantaged pet owners in times of need.
Please note: our animals in care don't eat "no name" brands of food, so 1 can of Whiskas is better than 2 cans of 'Black and Gold' or other similar cheap brands.
Locations of pet food bins
Coles Williamson Street Bendigo
Woolworths at Centro Lansell Plaza Kangaroo Flat
IGA Supermarket at Kangaroo Flat and Eaglehawk
 Blankets and Towels
We welcome donations of clean blankets and towels.
Please note: we do not accept feather doonas, pillows, cushions, clothing or any other similar form of bedding for keeping our animals warm and comfortable.
Pet food or bedding donations can also be dropped off at our Shelter but with so many animals in our care, we are very busy cleaning and feeding so we do ask that you check our Visit Us page prior to coming out.

THANK YOU FOR YOUR SUPPORT!